Capacity: 53,400
Record PL attendance: 54,693 v Leicester City (6 February 2016)
Built: 2002
Pitch size: 105m x 68m
Stadium address: Etihad Stadium, Etihad Campus, Manchester, M11 3FF
Phone: +44 (0) 161 444 1894
Manchester City moved into the Etihad Stadium, formerly known as the City of Manchester Stadium, in 2003 after 80 years at their previous home, Maine Road.
The Etihad, standing in the eastern area of Manchester, opened for business in 2002 as the Athletics Stadium for the 2002 Commonwealth Games.
The venue is part of the Etihad Campus, which is also home to the City Football Academy.
Etihad Stadium Map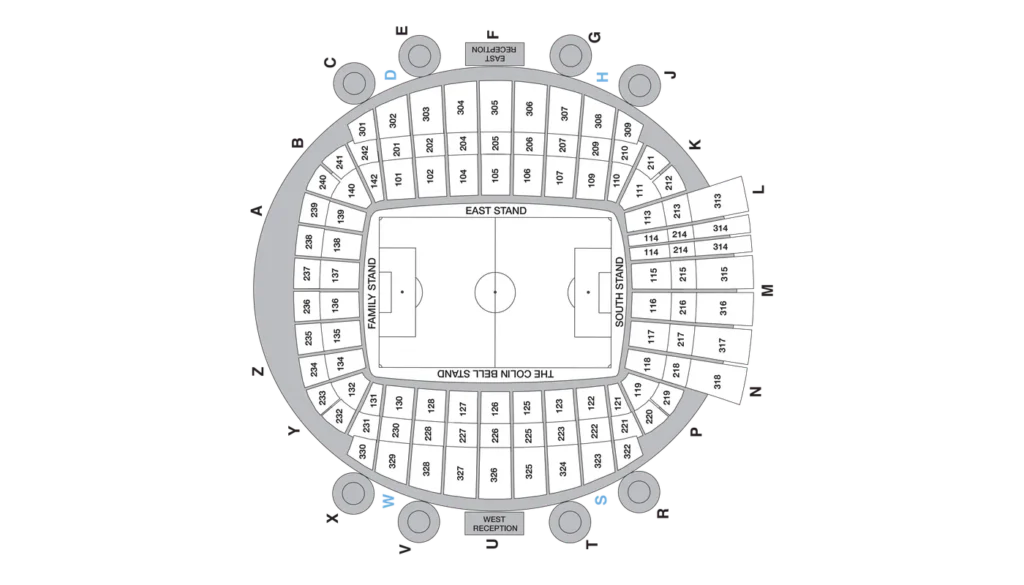 AccessAble
Manchester City Football Club have worked in partnership with AccessAble, to produce detailed pan-disability guides for Etihad Stadium.
The accessibility information in these guide aims to assist fans with disabilities and provide an additional resource to help home and away supporters plan their visit.
You can view the guide via accessable.co.uk/organisations/manchester-city-football-club
Arriving at Etihad Stadium from City Centre
Metrolink has a stop at the stadium so it is the easiest way to reach the ground from the city centre. Etihad Stadium is also accessible on foot from the city centre. There is a well-lit, sign-posted walking route available from Manchester Piccadilly station that takes roughly 30 minutes. Please see the public transport section for more information.
Arriving at Etihad Stadium by Public Transport
National Rail
Ashburys station [ABY]
The station is located at Pottery Lane, Manchester M12 5BY; 15 mins' walk from the ground.
It offers the following services:
Northern Rail services to Manchester Piccadilly, Hadfield and New Mills Central
Directions to ground: turn left out of the station; walk along the road and the stadium will be on your left.
Manchester Piccadilly station [MAN]
The station is located at London Road, Manchester M60 7RA; 35 mins' walk from the ground.
It offers the following services:
Virgin Trains services to London, via Stoke-on-Trent and Crewe
First TransPennine Express services to Leeds, Newcastle, Hull, Middlesbrough, Liverpool, York, Manchester Airport, Sheffield, Blackpool, Edinburgh, Glasgow
Metrolink services to Etihad Stadium (see below)
Northern Rail services to Sheffield, Manchester Airport, and Cheshire
CrossCountry Trains to Bournemouth, Birmingham, Oxford, Southampton, Bristol, Exeter and Cardiff
East Midlands Trains services to Liverpool, Sheffield, Nottingham and Norwich
Directions to ground: take a Northern Rail train 5 minutes to Ashburys, and follow the directions above. Alternatively, there is a well-lit and signposted route available to walk, that takes roughly 30 minutes. There is signage to direct fans along the route; just follow the 'City Link' signs.
Tram/Metrolink
Etihad Campus (East Manchester line, 2 mins' walk away).
Trains run from Manchester Piccadilly and Ashton-under-Lyne, with journey time from the former roughly 10 minutes. Note that both Holt Town and Velopark, stops either side of Etihad Campus, are not operational for at least one hour after events.
Tickets must be purchased prior to travel and machines are located on every platform. The consumption of alcohol is strictly forbidden on Metrolink.
Bus
Routes 53, 188, 216, 217, 231 all serve Etihad Stadium, some from the city centre and others from surrounding areas. Additionally, Stagecoach Manchester operates a match special between Piccadilly and the stadium; the frequent buses are £1.80 for adults and £0.90 for children, each way.
Taxi
MANTAX – 0161 230 3333
Arriving at Etihad Stadium by Car
Etihad Stadium on Google Maps: click here
The stadium is served by the following main roads:
From North: A6010, M60; passing Oldham and Bury
From South: M6, M56, M60; passing Knutsford and Stockport
From East: M62, A628, passing Huddersfield and the Peak District
From West: M62, passing Warrington and Sale
From City Centre
Etihad Stadium lies east of Manchester City Centre, accessible using either the A635 or A62. The A665 runs north-to-south and connects these roads, and the stadium can also be reached using Pollard Street and Merrill Street, which merges into Ashton New Road.
Stadium Area
The stadium forms part of the SportCity complex on Manchester's east side, which also houses the Manchester Velodrome and Regional Tennis Centre. The A6010 (Alan Turing Way) runs north-to-south through the middle of the complex, providing connections to the M60 (which surrounds Manchester).
A34 Greater Manchester – A34 Princess Street in Manchester closed southbound between the Clarence Street junction and the Cooper Street junction, because of major roadworks.
Greater Manchester – Shudehill in Manchester closed eastbound between the Nicholas Croft junction and the Hanover Street junction, because of roadworks.
A635 Greater Manchester – Speed restriction of 20 mph on A635 Mancunian Way in Manchester between the A6 London Road junction and the B6469 Fairfield Street junction, because of a contraflow and sewer works.
A6042 Greater Manchester – Speed restriction of 20 mph and expected delays on A6042 Trinity Way in both directions in Salford between the B5225 Prince's Bridge junction and the A34 Irwell Street junction, because of major roadworks.
Parking
Car Parking must be pre-booked on a match-by-match basis.
The pre-booking car parking system uses Auto Number Plate Recognition (ANPR) technology to improve the journey for our supporters on matchday at the Etihad Stadium.
You will now be able to pre-book your parking space on a match-by-match basis.
Accessible car parking and coach park are available at the Grey car park on Ashton New Road. Postcode for the Grey car park is M11 3FF.
Stadium parking prices are as follows:
Motorbike – No charge
Car (single occupancy) – £10 / Car (multiple occupancy) – £8
Minibus – No charge
Coach – No charge

For those travelling from the east or north, there are two large park & ride car parks located at Ashton West and Ashton Moss. They are free to use for metrolink customers and the off-peak return fare to Etihad Stadium is £2.70 for adults, £1.30 for children.
For further information on park and ride click here. The consumption of alcohol is strictly forbidden on metrolink.
Accessible car-parking spaces are made available to visiting supporters. The club will advise the visiting clubs' Disability Liaison Officer and/or a member of their Ticketing Team with regards to the number of bays available and any qualifying sales criteria.
Source: PremierLeague.com
Last Updated: 29/10/2023